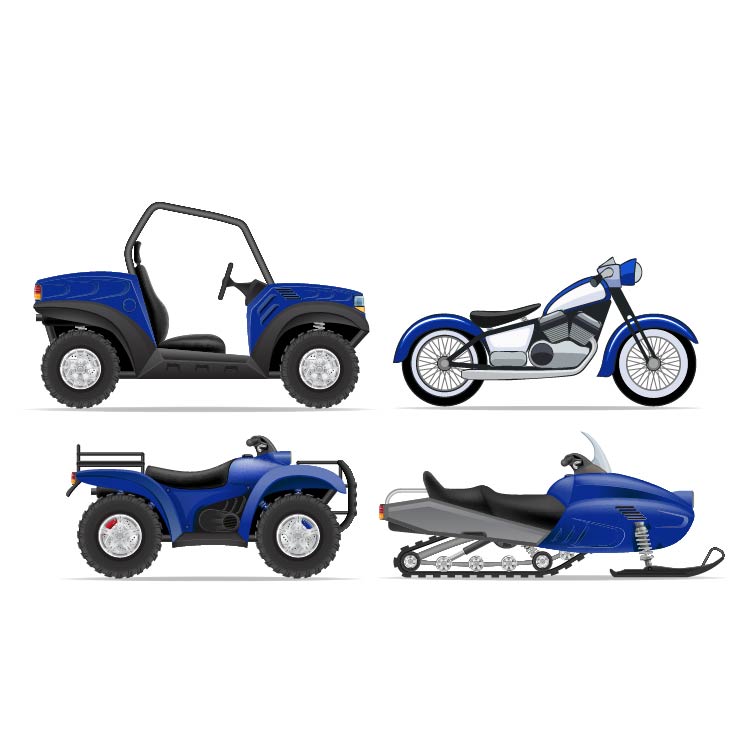 ATV/UTV and Motorcycle Insurance
Keeping your joy rides worry-free.
Why Choose Weed Ross For Your ATV/UTV or Motorcycle Insurance?
Weed Ross offers specialized insurance packages for the complete list of ATVs (all-terrain vehicles), UTVs (utility terrain vehicles), motorcycles, and snowmobiles, year-round. We keep you covered every season, like the wide receivers that dare step foot into 1 Bills Drive, Orchard Park.
Who doesn't like saving some cash here and there? At Weed Ross, we understand that things can add up pretty quickly. With hundreds of partners and connections, and with years of experience, we are able to assist our clients in finding the most affordable, effective coverage that best-suits their particular ride.
With a wide range of motorcycles, ATVs, UTVs, and snowmobiles available on the market, we've become quite familiar with what types of things people worry about when it comes to their motorsports. The experts at Weed Ross are here to help you choose the perfect coverage plan for your specific needs.
#1 ATV/UTV and Motorcycle Insurance in Western New York.
What is Motorcycle Insurance?
Motorcycle insurance covers your bike to protect you and anyone or anything else that might be hurt or damaged in an accident. Motorcycle insurance policies include several different types of coverages, and depending on the way you ride and what you ride, you'll want to consider a couple of different options. The best motorcycle insurance will make sure to protect you from almost any of the financial liabilities resulting from an accident.
What types of vehicles does Weed Ross cover?
We're fun guys and gals. We like the Buffalo Bills (folding table insurance?), we like golf, we like off-roading, we like snowmobiling—we get it. So we wanted to be sure to provide coverage on any types of motor sports and fun vehicles you can think of. The last thing you want to do on ATVs, UTVs, snowmobiles, or motorcycles is worry about what might happen after an unfortunate event. Of course we want you to be safe, but otherwise… full throttle, year round. For these reasons, Weed Ross provides:
Motorcycle insurance

ATV (all-terrain vehicle) insurance

UTV (utility terrain vehicle) insurance

Dune buggy insurance

Golf cart insurance

Snowmobile insurance

Dirt bike insurance

Any other motorsports insurance
What does motorcycle insurance cover?
• Bodily Injury Liability Coverage
Bodily Injury Liability Coverage protects you and covers bodily injury or death resulting from a motorcycle accident when you're found at fault.
• Property Damage Liability Coverage
Property Damage Liability Coverage defends you if your motorcycle accidentally damages someone's personal property.
• Medical Payments and No-fault or Personal Injury Coverage
Medical payments or personal injury coverage pays for a limited amount of the medical expenses resulting from a motorcycle accident. These are medical bills from injuries that you caused to yourself or to the people riding with you.
• Uninsured Motorist Coverage
Uninsured motorist coverage pays for your injuries and certain property damages caused by an uninsured or a hit-and-run biker.
Collision coverage pays for damage to your motorcycle when it hits or is hit by another object.
Comprehensive coverage pays for damage to your motorcycle from theft, vandalism, flood, fire, and other covered perils.
Though standard motorcycle insurance is very similar to auto insurance, some coverages are specific to motorcycles. These unique coverages often include:
Accessory insurance covers the costs of motorcycle add-ons like seats, sidecars, radios, and helmets.
• Carried Contents Coverage
Carried contents coverage protects you from damage or theft of extraneous items and gear such as backpacks, cellphones, briefcases, and more.
• Original Equipment Manufacturer (OEM) Coverage
OEM coverage makes sure that any repairs to your motorcycle are performed with the original company parts to keep your bike running how it should.
Do I need motorcycle insurance?
Motorcycle insurance is required in all states except for Florida. We know, Florida, right? While you can purchase a motorcycle without insurance, you cannot register for a license plate and ride it legally until you're covered. Additionally, motorcycles are inevitably more dangerous because they're harder to see and are naturally built with less protection, so having motorcycle insurance is a must, even if you like to live on the edge. How about this: you get your bike covered by insurance, and we won't tell your mom you have a motorcycle.
What is ATV/UTV insurance and what does it cover?
ATV/UTV insurance is just like motorcycle insurance—it's designed to protect you while you have fun. When we say ATV/UTV, we're referring to pretty much any motorsports vehicles that come to mind: ATVs, dirt bikes, snowmobiles, dune buggies, golf carts… all of it. ATV/UTV insurance can cover injuries and damages that may occur from riding. The best utility vehicle insurance, however, also covers accessories, parts and equipment, total loss, carried contents, and more. 
Do I need ATV/UTV insurance?
ATV/UTV insurance isn't required in all states, but a lot of the places that you ride these types of vehicles may mandate it. Think race tracks or public trail parks. Another thing to consider is that home insurance often covers ATVs if you're only riding them on your property. Additionally, many carriers will simply let you add ATV/UTV coverage to your motorcycle insurance policy. There are a ton of different ways to make sure that you have stress-free fun with your ATVs and UTVs.
More questions on ATV/UTV or motorcycle insurance? Need a riding buddy? Give us a ring or shoot us an email. With offices in Batavia, Ellicottville, and Randolph, we always have a local, Western New York agent available.