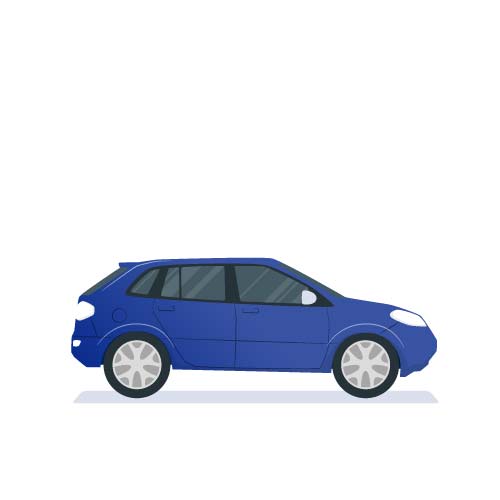 Coverage no matter where the road takes you.
Why Choose Weed Ross For Your Car Insurance?
Car accidents suck. Your coverage doesn't. At Weed Ross, we understand that car accidents are stressful enough in and of themselves, and we don't want to add to it at all. We offer the full range of coverages in our auto insurance packages so you can focus on more important matters.
Auto insurance can get pretty confusing, especially because it varies from state to state, policy to policy, vehicle to vehicle, and person to person. See? It starts to get complex, quick. The fine folks here at Weed Ross work closely with you to create straightforward policies and nip any confusion in the bud.
What's worse than car accidents? Long hold times. And why is hold music always so terrible? We don't have the answer to that, but we will be able to help you with almost anything else right away, especially if it's about auto insurance. As an independently owned insurance agency, Weed Ross is there when you need us most.
#1 Auto and Car Insurance in Western New York
Car insurance is a type of protection that covers damage to your vehicle and other financial liabilities related to an accident. For instance, auto insurance can also cover damages to another person's vehicle or even medical bills in case anyone was injured. Car insurance policies will cover these types of things up to a specific limit that varies from policy to policy. This safeguard insurance is meant to help with the financial side of car accidents, as a simple mistake made in a split second can often turn into a lengthy, expensive remedy process.
What Does Car Insurance Cover?
Auto insurance typically covers a variety of essentials resulting from an accident, though it varies from plan to plan. However, the standard coverages of most auto insurance policies are:
• Bodily Injury Liability Coverage
Bodily Injury Liability coverage defends you and pays for bodily injury or death resulting from an accident when you're at fault.
• Property Damage Liability Coverage
Property Damage liability coverage defends and protects you if your vehicle accidentally damages another person's property.
• Medical Payments and No-fault or Personal Injury Coverage
Medical payments or personal injury coverage pays for a limited amount of the medical expenses incurred as a result of a covered accident, regardless of fault.
• Uninsured Motorist Coverage
Uninsured motorist coverage pays for your injuries and certain property damages caused by an uninsured or a hit-and-run driver. In some cases, underinsured motorist coverage is also included.
Collision coverage pays for damage to your car when it hits or is hit by another object.
Comprehensive coverage pays for damage to your car from theft, vandalism, flood, fire, and other covered perils.
Car insurance is required in most states by law. The vast majority of the time, if you are caught driving without car insurance, it can result in a fine, suspension of your license, or even jail time. Weed Ross will see to it that your policy fits your state's specific guidelines and requirements. Also, car insurance is just something you'll want to have for rainy days—legal fees, medical bills, and auto repairs can easily become hefty payments without it. For these types of scenarios, Weed Ross is here to help.
What if I'm buying a new car?
Buying a new car or a second car is a great opportunity to ask questions about your auto insurance policy. We're more than happy to discuss the details of your plan but, yes, your new car will need insurance as well. This goes for any motor vehicles, such as recreational vehicles and classic cars, like that '69 Dodge Charger hanging out under the all-weather car cover. With Weed Ross, transferring auto insurance policies from vehicle to vehicle is as easy as 1-2-3.
How much does car insurance cost?
Auto insurance premiums vary depending on the vehicle. Most policies charge slightly more for vehicles that are more likely to be in an accident, statistically. Other things like your driving record, age, and selected deductible can affect the cost of your car insurance premium. If you have a spotless driving history, you might have a lower quote than someone who treats every road like the Autobahn. If you'd like to know what your auto insurance would cost, our simple, painless, and free quoting process can get you an auto insurance quote in a matter of minutes.
Still have more questions about car insurance? With offices in Batavia, Ellicottville, and Randolph, we always have a local, Western New York agent available. Give us a shout and let's get started.