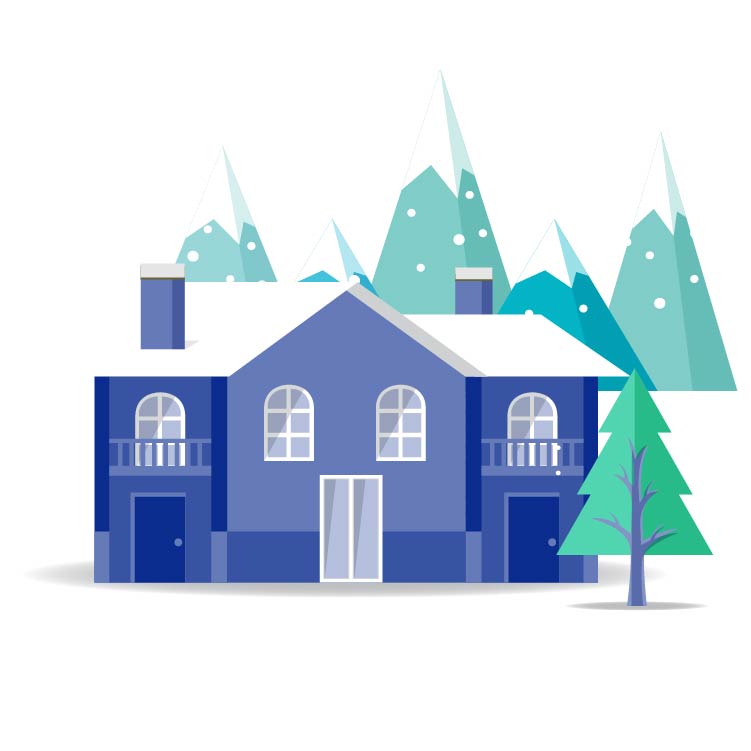 Second Home and Vacation Home Insurance
Let's protect your home away from home too.
Why Choose Weed Ross For Your Second or Vacation Home Insurance?
We know that owning a vacation home may have been one of your life goals. For this reason, Weed Ross offers secure and comprehensive coverages to sufficiently protect your second home or vacation home from any threat. Let's make sure your vacation home is there for you whenever you need it.
If there's one thing that we are, it's practical. If we're two things, well, then we're practical and awesome. Weed Ross' second home insurance policies are designed to be as practical and straightforward as possible. Owning and maintaining a vacation home is cumbersome enough, especially if you're renting it out, so we make the insurance part easy.
Our company vice president, Joe Palumbo, knows firsthand how exciting owning a vacation home can be. There's nothing like taking a little time off and escaping to your ski lodge or beach house. Here at Weed Ross, we offer a personal touch to provide the best customer experience possible. Don't worry, Joe never stops working, even on vacation.
#1 Second or Vacation Home Insurance in Western New York.
What is second home or vacation home insurance?
Second home or vacation home insurance is a type of home insurance that is specifically designed to cover and accommodate the needs of a residence you own but don't live in year-round. Most insurance carriers perceive second homes or vacation homes as more risky to insure than primary residences. Think of it like this: if you're not there all the time, your second home is more susceptible to break-ins and vandalism. Additionally, property damage is less likely to be noticed, or it may be too late by the time it's detected.
What does second or vacation home insurance cover?
Second or vacation home insurance covers a lot of the same things that regular homeowners insurance covers, but they are not identical. One of the interesting distinctions between these two is that second home insurance policies are often built around "named perils," or predetermined, specific events and threats. For instance, a beach house is going to me much more likely to experience flood damage than a ski lodge. Second home insurance policies typically protect you financially from things like fire and smoke, water and flooding, theft, explosions, lightning, and more. Liability and medical payment coverages are also optional additions to a vacation home insurance policy.
Do I need separate insurance policies for my home and second home?
Separate insurance for your home and second home are not always mandatory, but mortgage lenders do often require distinct insurance policies. Sometimes, your insurance carrier can extend liability coverage to a second or vacation home, but if you want to protect the contents inside of it, you'll most likely need a second and separate policy.
What about insurance for renting out my secondary home?
Insurance for rentals is a different classification and type of coverage all together. If you plan on renting out your secondary home, there are a couple of different variables that come into play. Are you renting your property out just this once, or are you doing it as a business with multiple guests at varying intervals? Are you renting your vacation home out short-term or long-term? These types of things matter.
If you're renting your vacation home out as a means of making profit, many insurance carriers will consider this business activity. In this instance, business insurance may be more up your alley, but talk with your insurance experts at Weed Ross for more information. 
If you're renting your home out one time, some carriers might extend the protection from your vacation home insurance for this one-off scenario, but other carriers may require an "endorsement." This is essentially an amendment to your existing policy's coverage. 
If you're planning to rent your secondary home out for a long period of time, you're essentially becoming a landlord, and you'll want a specifically designed insurance policy to go with it.
How much does vacation or second home insurance cost?
The cost of vacation or second home insurance varies based on a number of different factors. The location of your home has a lot to do with the premium, for example. If your home is smack-dab on the beach, your policy may be more expensive than if it's on a safe street inland. The condition of the secondary home is also an integral consideration for insurance companies. Older, neglected homes that require substantial maintenance may cost more to protect. To find out your rates exactly for a vacation home insurance policy, talk with one of the experts at Weed Ross.
Does second or vacation home insurance make total sense now? Do you have more questions? Need a golfing buddy? Give us a call for all of the above. With offices in Batavia, Ellicottville, and Randolph, Weed Ross always has a local, Western New York agent at the ready.